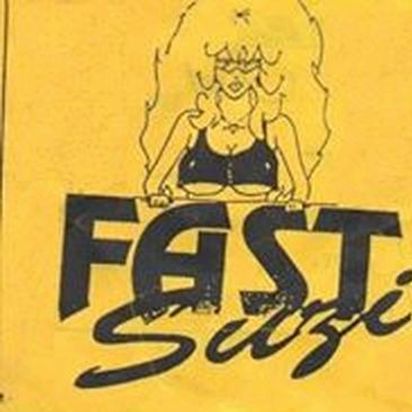 How It Began
1988 - 1991
FAST Suzi began in a CD store in 1989.  Store Manager Matt Smith and guitarist Mickey Thomas struck up a friendship based the music they both liked, blaring out of the stereo system in the store, in particular, the Steve Stevens solo album, Atomic Playboys.  
Mickey and Matt sought musicians to put together a band they originally named Atomic Playboys.  A letter from Billy Idol's management company changed the band name idea fairly quickly.  The name FAST Suzi came very organically. FAST, was spelled F.A.S.T. as an acronym of the first members of the band (Terry)Frazier, (Todd) Alimorong (Matt) Smith, and (Mickey) Thomas.  Suzi was the name of the daughter of one of band member's girlfriend at the time, and a name was born.  
The songs were crafted in great rehearsal spaces like The Space Place in Chicago and the original Ranger Sound, first on North Avenue in Oak Park, then in Franklin Park.  The key to the music was singable with a classic style, guitar based without ego driven solos, and one other important element:  They had to be played very LOUD. 
F.A.S.T. Suzi rocked audiences at every show. The band played in many of Chicago's iconic venues including SOP's, Stay Out West, The infamous Gateway Theatre, and the legendary Thirsty Whale.  
Songs like, "A Better Yesterday", "The Urge", "I'm in Love," and the single, "Giving it All To You" rocked audiences at every show.  "Giving It All To You" even got radio airplay.  It started with Ralph Rasmussen's local show on WVVX FM, then spread to Chicago radio stations like WLUP FM (The Loop), The Original Q101 (WKQX-FM), and the Detroit rock and roll powerhouse station, WRIF FM.  
After a few lineup changes, the band went dormant for many years.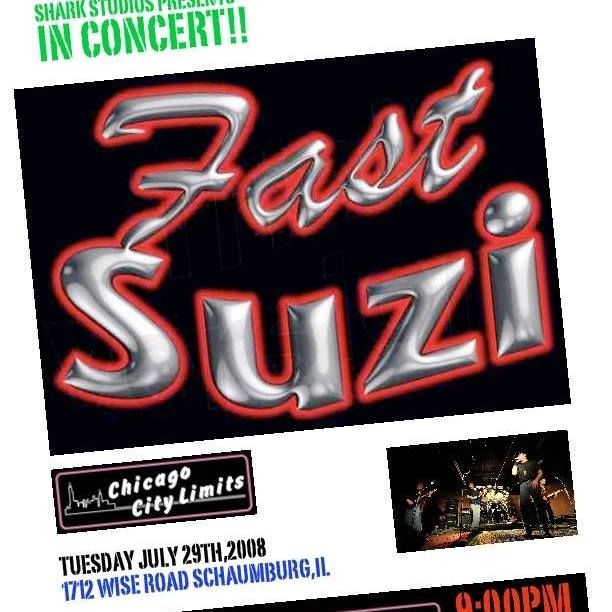 Fast Suzi Mk II
2007 - 2009
Something interesting happened in 2006.  Mickey Thomas got tired of not playing out and had the bright idea of bringing the name of Fast Suzi back to bars around Chicago.  Mickey and Matt set about to bring the music back.  After learning that original members Todd Alimorong, Terry Frazier, and Buddy Magerkurth no longer lived in Chicago, the search was on for the NEW Fast Suzi.
Several great musicians were involved in the reboot, including singer Lisa Kadow and bass player Willie Mendes (Red, White, and Blues).  The band became settled with Andy Kiss on drums, John Lash on bass guitar, and vocalist Matt Badon.  
They woodshedded at Shark Studios in suburban Lombard, IL, for months honing what would be the new live show.
This version of Fast Suzi celebrated rock music of three decades and paid homage to the original band by including the fan favorite, "Giving It All To You" in the set list.  The band rocked venues like The Chicago Loop,  Chicago City Limits (now MT Barrels), eScape, and The Cubby Bear, rocking fans old and new.
Like what happens with many bands, the lineup changed once again.  John Lash left and was replaced by Bob Noell.  Bob brought a new variety of influences further widening the band's appeal.  Not long after Lash's departure, Matt Badon left the band to pursue another musical direction.  Fast Suzi had settled on two singers to replace Badon.  The idea was short lived.  Founding guitar player Mickey Thomas was forced to leave the band due to medical issues, and it was decided to retire the Fast Suzi name.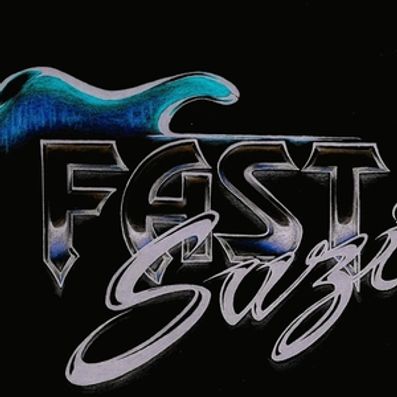 Fast Suzi 2020
Rock and Roll to Fill Your Soul Returns
In early 2019, Matt left his last band feeling very unsatisfied with paying tribute to music he didn't write. Matt adds, "No disrespect to the band I was in.  It was fun; it was a learning experience, but I wanted more."
After considering many music opportunities from Chicago music community, the decision was made to return to the music that was created and played with blood, sweat and tears and closest to Matt's heart.  
After discussion with the original members of the band, Matt decided to resurrect a new Fast Suzi; one that would play the original music that he, Todd, Terry, Buddy, and Mickey created.  The plan was to revive the original music, play some favorites from a time gone by, and more importantly, write new music.   
Matt first enlisted Rich Zei to helm the ship.  Rich was involved with the original version of the band, mixing sound at The Thirsty Whale and other venues.  His knowledge and expertise have been invaluable from day 1.
Next to join was guitarist Mark Schuth.  His skill and connection to what we call "The Thirsty Whale days" were important to bring to the band.  Next were bassist Mark Schiele and vocalist/guitarist Amy Stephan.  Matt explains "Both Amy and Mark are a link between classic music eras in Chicago, and their talent is undisputed."  Last but not least, after an exhaustive search, the band was fortunate to have drummer Rich Matula join the band. "I like to think of Rich as our very own John Bonham.  He's solid, creative, and a really great guy,'  Matt further explains.  
The new Fast Suzi took to Ranger Studios to begin rehearsals in yet another nod to the past.  Working very hard on the songs that Fast Suzi created, they are set to bring their "Rock and Roll to Fill Your Soul" to audiences everywhere.
Matt closes by saying, "This group are the most talented musicians I've ever played with.  Their passion for music, their unending drive, and the fun they radiate together will make for a very unique experience."
Rock and Roll To Fill Your Soul... indeed.  (Thanks, Mick, here's to you.)